How To Send Automatic Emails in Outlook 2013 – Simple Steps
Sumatyee | September 10th, 2016 | MS Outlook
Outlook Overview
Outlook is an eminent email client and personal information manager developed by Microsoft corporation. It offers features such as calendar , task management options , address book manager , add-ins and many more . Outlook is mostly used email client now-a-days . It is available as standalone software or part of Microsoft office package . Outlook use PST format to store emails and other mail items .
Schedule a Recurring Email in Outlook
Recurrence feature in Outlook automate the repetitive task. Scheduling recurrence email feature allow users to automatically set up and send email according to period to time set by users . Users can send recurrence emails on monthly , daily and weekly basis. In this article I am describing how to send automatic emails in Outlook 2013 .

Set a Recurring Email in Outlook 2013 by using Add-in :
Users can schedule recurrence email with just few clicks by using an add-in Auto Follow Up for Outlook. Auto Follow Up add-in allow users to schedule and automatically send recurrence emails with the help of available options such as daily ,weekly , monthly and user based settings /custom periods. Auto Follow up app is compatible with Outlook versions starting from Outlook 2003 to Outlook 2016.
Operating system support : Microsoft Windows XP, 2003, Vista, 7, 8, 10 (x32 and x64)
Latest version Auto follow Up : 2.0.188
Note : Download version 2 Auto Follow Up add-in or the latest version .
How to Send Automatic Emails in Outlook 2013
Follow Steps :
1. Download latest version of latest version of app Auto Follow Up .
2. After successful installation of add-in Auto Follow Up option will get displayed toolbar in Outlook .

3. Click recurrence settings option .
4. Pop-up gets displayed to users .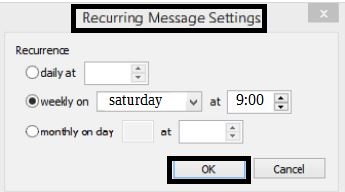 5. Users can select as per requirement any of the option daily, weekly and monthly .
Eg . If user select weekly then user has to specify day and time mail has to be automatically send to receiver .
6. click ok .
7. Go to File and click New mail .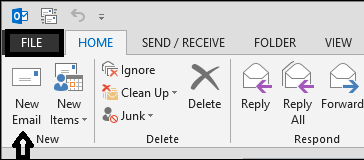 8. Enter the recipient email address in "To" field and "Cc" field .
9.  Click auto Follow Up tab → Add Auto Follow Up option in outlook toolbar .
10. Enter the message body and enter the subject , other information and click OK .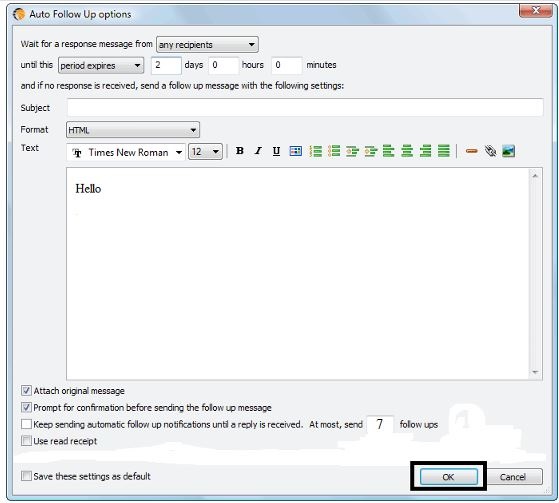 This article describes how to send a recurring email in outlook 2013 or 2016 and other versions . Outlook is a renowned email client . It provides users unique features like : online office , Skype, calendar , emailing service , organise outlook inbox options ,filter incoming and outgoing emails and many more . One of the unique feature outlook offers is scheduling recurring emails . Question How to send automatic emails in Outlook 2013 is only possible with the help of add-in " Auto Follow Up ". If user use  DBX File to PST File Converter  to migrate from one email client to other then also they can use add-in and use this outstanding feature to create a recurring email in outlook 2013 and other versions .