SecuraSoft™ NSF to PST Converter is an all in one universal app will give the power to convert all IBM Lotus Notes NSF File data to Outlook PST form. Also explore all the associated properties and attachments in Outlook with this comprehensive tool.
Convert NSF to PST File with Emails Properties & Meta
NSF to Exchange Server Migration With Business & Enterprise License
Export Multiple NSF Files At Once As Bulk Migration Supported
Fix Compatibility Issues - Works Well with All Editions Lotus Notes & Outlook 2013
Domino Server is not required for Opening Server's NSF file
Key Attributes of NSF to PST Converter
NSF PST conversion utility performs with the unchanged folder structure, HTML formatting when it export NSF archive to PST file. The key feature that makes NSF to PST converter different from other is multiple NSF to PST file conversion. Software is designed and created in such a way so that user don't have to do extra manual work of deleting emails one by user. This makes the task easier and avoids extra work of deletion after Convert NSF Archive to PST.

Easy to Convert NSF file to PST File
NSF to PST Converter exports all emails, calendars, to-do list, journals, task from NSF file to Outlook PST file whilst preserving the metadata and associated attachments and documents.

Bulk Migration to Exchange
With the help of Technician and Enterprise License of tool users may safely export Lotus Notes mailboxes to Exchange with complete data items, properties and mail attachments.

Selectively Export names.nsf File
NSF To PST Converter gives an option to select and migrate only the only names.nsf (address Book) file from NSF files into Outlook PST format with same content quality.

Provision To Exclude Selective Folders
The tool also gives an option to exclude conversion of "Deleted Items", "Sent items" or any other user specified folder from Lotus Notes NSF to PST format.

All Filtering While Conversion
You can apply various filters while conversion from NSF To PST Microsft. Specify "From" and "To" date and the software will include all the data present in the date range. Latest Release now filter all NSF mails, Calendar, Journals and To do list. Read More..

Removal Of Message Level Encryption
Gives you an option to remove encryption from emails of NSF file. Select "Remove Encryption" option to decrypt the encrypted NSF mail and convert the mails to Outlook PST file form

Preserves HTML Formatting
NSF to PST Converter preserves the HTML coding of the mails while converting them. After conversion the mails will appear in Outlook in same format as they were Lotus Notes.

Convert "All Documents" Folder
You can select "All Documents" folder of Lotus Notes to convert all the data present in it to PST format with the help of tool check 'All Document' option while migration process.

Retain Internet Header Attributes
Retains all the attributes of internet header like IP Address, location, domain, etc. while converting NSF file to Outlook PST file format.
Convert Recurrence Calendars
If you have created some recurrence events in your calendar, then NSF to PST Converter will save them even after conversion to PST format

Split PST after Conversion
If you want to define a various slots for Outlook PST file then you can divide resultant PST files into multiple parts by using Split PST options during process.

Select PST Format
Gives you an option to select format of PST file i.e. ANSI or UNICODE. In case you have MS Outlook 2003 or above then go for ANSI format otherwise opt for UNICODE format.

Remove Duplicate Contact Entry
Now it very easy to find out the duplicate contact entry from names.nsf to PST conversion process. This function is able to filter the unique contacts by setting multiple inbuilt criteria.

Map NSF Canonical Name
Now Notes NSF CN Names can be easily mapped to manually set SMTP email addresses. This may helps users to mapped single as well as multiple Canonical Names to SMTP Email ID.
Product Presentation Via Video
Preview the Complete Video of Product to know How to convert NSF to PST
Screenshots Presentation
Get familiar with the interface and functionality of NSF to PST conversion utility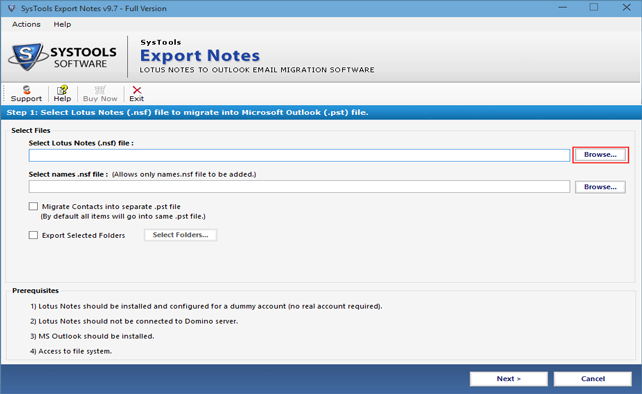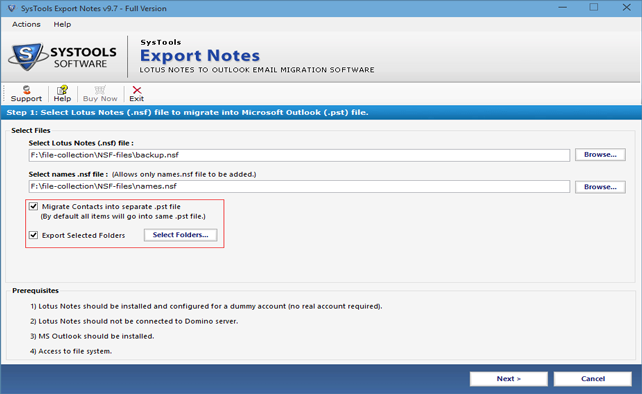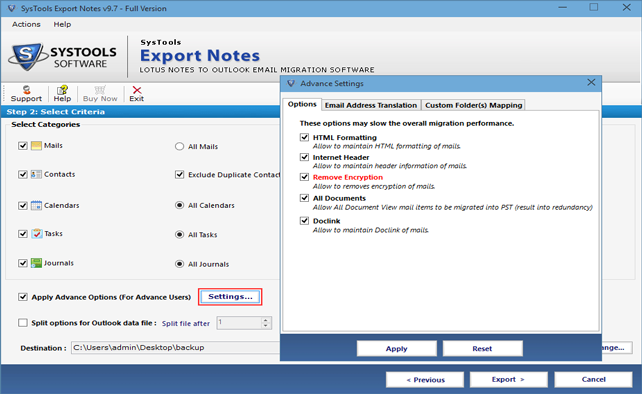 Technical Brief
IBM Lotus Notes is a desktop based email client which offers email as an integrated part of it. The database of Lotus Notes is stored in 2 files-"username.nsf" and "names.nsf". The address book of Lotus notes is stored in "names.nsf" and a conclusive storage of all data gets stored in "username.nsf".

MS Outlook on the other hand is a desktop based client which comes as a part of Microsoft Office suite. It is basically employed for emailing purposes and its services can be availed on an individual basis too. Outlook stores it data in 2 proprietary file formats - OST file and PST file. PST file is used to store copies of emails, contacts and other data present in Outlook.
Why Choose Outlook Over Lotus Notes?
Lotus Notes undoubtedly offers a wide range of applications as compared to Outlook. But still there are some factors in which it lags behind Outlook. Some of them are:
Economic Factor: Since MS Outlook is included in MS Office suite, it is more economical than Lotus Notes. Investing in Lotus Notes just for the sake of emailing is not a choice that most users would opt for. Therefore it is seen that a major section of the users are shifting their interests from Lotus Notes to Outlook.
User Interface: The user interface of Lotus Notes is not user friendly and therefore poses problems for naïve users. On the other hand Outlook has simple and intuitive interface which is easy to get used to. Even a naïve user can get accustomed to it after using it for just a few hours
Access Multiple Accounts: Outlook gives you an option to sign in with multiple accounts more easily as compared to that of Notes where you need to browse the User ID file for each account to log into it. This helps in saving time of users working in large enterprises.
Reviews
SecuraSoft™ NSF to PST Converter smoothly moves NSF to PST resolving our all problem of data safety, The most important thing I found during the process that software export the NSF file in a batch which save our most crucial time.
-- Jurou, Japan
The software comes with wide range of options to customize the PST whilst converting it from NSF format. HTML preservation is a feature which deserves ten on ten.
-- Ramona Day
I am really grateful to your organization for providing us with such a potent NSF to PST Microsoft tool. It helped me convert huge amount of data from IBM Lotus Notes NSF file and it does it with such a speed and efficiency that is worth appreciating.
-- Marty Benson
I have used many conversion software in past. But NSF To PST Converter is a tool that is worth recommending. It comes at such an affordable price and is very user friendly.
-- Michele Barnett