How To Resolve An Issue With Outlook 2013 & 2010 Not Opening: Complete Guide
admin | May 12th, 2017 | MS Outlook
Are you facing a problem while starting Outlook 2013 or Outlook 2010? Do you receive an error message saying that 'Outlook 2013 not opening' or Have you encountered 'Cannot open the Outlook Window' error message while working on this email client? Are you annoyed with your Outlook stuck on starting? If Yes then, you don't need to worry because we can fix these error problems for you. In this blog, we will cover all the relevant solutions to fix the 'Microsoft Outlook has stopped working' error.
Generally, if an issue strikes MS Outlook, there are numerous online ways to fix it. But to do if Outlook does not want to open? If you are going through all these hurdles in Outlook, you should probably bookmark this article. We will discuss all the efficient methods to resolve 'Outlook does not Open' issues. But before this, let us know why this type of error arises.
Additional Trick: –
Getting tired of by "Outlook is not working error". Access Outlook ost file data without Exchange Server, Just
Convert OST File to PST
format.
Cause of 'Outlook Is Not Working' Error:
This type of error in MS Outlook occurs when Outlook's user interface completely fails to launch. Now, according to Microsoft, the possible reasons behind 'Microsoft Outlook 2010 not responding' error are explained in the image below.

Resolving 'Cannot Start Microsoft Outlook' Error:
Now, in this section, we are going to explain different solutions to repair this Outlook error depending upon the reason behind it. Though there are several ways to deal with this Outlook stuck on starting error but we have divided the fixes into two broad categories for the better understanding of the users. These are manual fixes and software fixes.
Manual Fixes
1. Start Outlook In Safe Mode:
Use these troubleshooting steps we're providing below to help resolve the Outlook startup issues.
Go to Start Menu >> Run >> Type Outlook/Safe >> Click OK button.
A dialog box appears, select default Outlook settings and click on OK.
If the password prompt appears, give the password and click the OK button.
2. Disabling the Add-ins:
Follow the below-written steps, in case your system is already running Outlook in Safe mode.
Open Outlook >> File >> Options >> Add-ins. Assure that Manage box shows COM Add-ins and click Go.
Take a screenshot of the property sheet when COM Add-ins listing of the current Add-ins opens.
After capturing titles of the selected Add-ins, clear all selected checkboxes and then click OK button.
3. Keep Compatibility Mode OFF:
If the disabling of add-ins also does not fix the cannot start Outlook error then, do the following.
Type Outlook.exe in Run dialog box then right-click on Outlook.exe >> Select Properties >> Compatibility tab.
Uncheck the box saying "Run this program in compatibility mode". Click OK button and restart Outlook.
4. Creating a New Outlook Profile:
The profile contains Outlook settings of a user but sometimes it gets corrupted. To fix this, it is better to create a new profile. This can be done by the procedure given below.
Go to Control Panel >> Mail option. In mail setup dialog box, select Show profiles and click Add.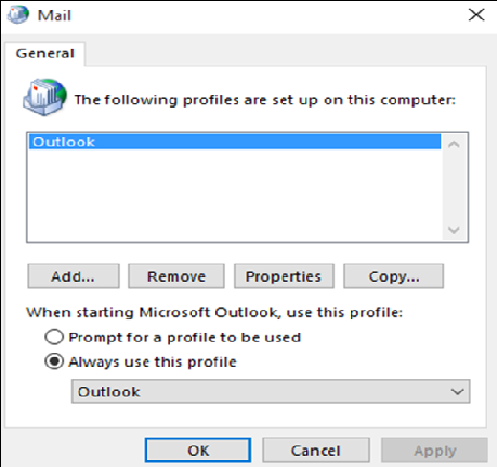 Add the new name in Profile Name dialog box. After giving the name just click on OK button.

Under email account in Add account wizard, fill all the relevant fields like Name, Email, Password, etc.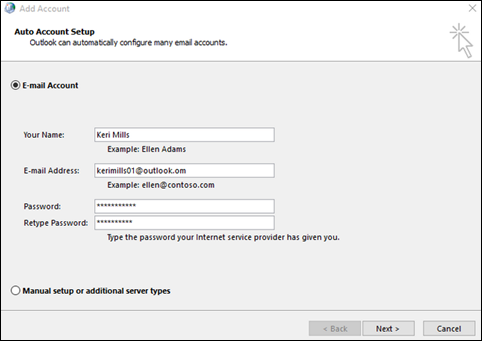 Click finish and you will find the new profile added in the General tab in mail dialog box.
When starting MS Outlook, select this new profile and click on OK button.
5. By Restarting Add-ins:
Try this alternative method to fix this Outlook does not open error. Its steps are given below.
Go to Start Menu >> Run option >> Type Outlook
In Outlook choose File >> Options >> Add-ins.
Enable one add-in at a time and click OK button.
Repeat the process till source of Error is detected.
6. Software Fix 
If all the above solutions fail to fix the 'Microsoft Outlook has stopped working' issue, your Outlook OST file might have been maligned or damaged. This may be the reason preventing Outlook from starting. So, to repair OST file, it is the user-friendly & reliable solution for OST File to PST File Converter software. This tool perfectly converts all objects within the OST file, which can be imported into Outlook and used.
Final Words
Now if you come across the nasty error message, 'Cannot start MS Outlook' while launching MS Outlook then, you have all the piece of solutions by your side. In this blog, both manual and software fixes have been explained. According to the user need, they can switch to the best method to resolve the Outlook error.